MEFANET Serious Games
Serious Games have been developed as one of the extension in the network of Czech and Slovak medical faculties MEFANET. The website has been designed for indexing metadata about simulation-based learning objects, often reffered to as electronic virtual patients or virtual clinical cases.
---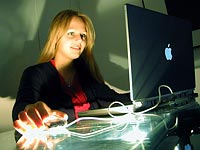 The interactive learning objects are developed by authoring teams of medical students in the final years of their studies, supervised by an experienced clinician, and always undergo an external review. Supervising and review guarantee reliability and overall quality of the final work, which is then available for life-long education of medical students and health care professionals.
The first comprehensive set of the interactive learning objects published at the Serious Games comes from AKUTNE.CZ – an educational portal which focused on various topics related to acute medicine. The interactive algorithms link together process flowcharts and multimedia and are used for students either as outlines of Problem Based Learning (PBL) sessions or as supplementary materials for training and adopting correct clinical reasoning.